North to south and other various directions (like Northeast etc.)
I have to say I was highly disappointed when I boarded the Interislander ferry this morning to find that they STILL haven't built a goddamn KFC family restaurant onboard. One would think that after years of letters of complaint from myself (and I'm sure 100s of other people around the country, if not the world) that they would maybe act on what the public wants for once in their life.
For me, nothing sums up traveling from the North Island to the South Island like a bucket of chicken, and or a bit of potato and gravy, but NOT the coleslaw as it pretty much tastes like the end of the world mixed in with some rotty old yak/sloth milk.
At least the other crap you can buy on board is at very competitive prices. Eg. A ham and butter sandwich for around 8 dollars. And so on and so forth.
In case you can't tell, I am currently feeling reasonably nonplussed about the Interislander ferry at this current moment, but I'm sure things are on the up.




There has always been a love-hate relationship with me and this heaving water beast since my first journey south at the age of 7 with my family and Ross Campbell. After eating some form of Raspberry popsicle and then being thrown around by the lurching waves, my only choice was to hurl bright red vomit throughout
a) the boys toilets
b) the girls toilets
c) the reclining lounge
d) other areas of the interislander and it's surrounds

It has been an early start to the day yet again. Awaking at 5:40am after having another dream that I had to fight a Fedex delivery man for my passport. Even though halfway though our battle he deemed it acceptable to magically transform into a minotaur carrying an enormous bomby-knocker, I still was skillful enough to defeat him with my crossbow and superior cunning.
It seems ridiculous that a minotaur would have my passport for any reason, but I suppose anything is possible in this crazy world of ours. Just look at examples like the waterskiing chipmunk in the film Anchorman, and the woman who grew several horns out of her head in my previous writings, to show you that we live in a universe full of surprises.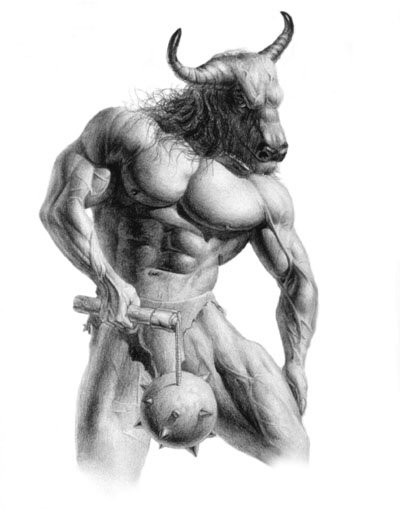 that is a picture of a minotaur with a sweet body and also, coincidentally, a bomby knocker


I have been told never to talk about
a) your dreams
b) your children
c) your pets
Because it is obviously totally boring for anyone except you, but I thought defeating a minotaur was a worthy exception, and also if anyone ever tried to tell me to shut my trap about my pet pig Kenny Powers (aka Kenny Powers The Great) I would probably 'X' them from my life anyway as they are obviously slightly moronic for not realizing that he is the greatest pig to ever walk the face of the earth.
In related news, he seems to have taken a real liking to 2Pac, as the response I get from him when I put it on the stereo is only ever positive.
Maybe for his first birthday I will pay for him to get 'Thug Life' tattooed on his stomach the same way 2Pac had.

I guess it will depend on how much money I have at the time as tattooes don't always come cheap.
As I am currently away touring with my band it has been a tough time for Kenny Powers' and I's relationship as I have not really been able to put in any quality time. Thank god The Morning Stomper is happy to just have him around the house minding his own P's and Q's.
Although I have warned her to keep an eye on my brother as he is no doubt hatching some form of prank to play on KPTG (Kenny Powers The Great), as he feels that his cat Miffy does not deem it appropriate to have another animal living at our house.
Just in case you were confused, Miffy is a male cat despite the fact he has the most feminine feline name in the Southern Hemisphere.

Being on tour for an elongated period of time is like some form of quest where you are never allowed to go home and relax. I suppose essentially we are a little bit like the 9 travellers from Lord Of The Rings, although our quest is much less important to the good of the world around us.

The main thing I miss when I am not sitting round at home is little luxuries like watching a cooking channel.
Especially the one which featured some kind of Masterchef final completely in French, where the winner was an exceptional young Frenchman called Grogory who had one full arm and one arm that was missing a hand and ironically, looked very similar to a freshly baked French Stick (or in France, a 'baguette'). He was truly inspiring, and even though I couldn't understand any of the dialogue, (except for 'champignon' which means mushroom) I knew from his 'can do' attitude towards cooking and preparation he was going to go all the way to the top, one-armed or not.




The main thing about Grogory that impressed me was his highly effective technique for cutting vegetables, which involved his good handing holding the blade for cutting off the pieces of the chosen vegetable, and his baguette was used to slowly slide the vegetable closer to the blade as it was getting cut.
The baguette really did not seem to hinder Grogory's cooking prowess whatsoever. After a while I forgot he was even at a disadvantage, in fact, I doubt he even saw it that way as his Baguette really was like a secret weapon.

Anyway, I digress, the main point of my story is that life is funny, and last night that was confirmed when I read some graffiti on the wall of the girls toilet which said:
'Please refrain from vomiting here… Thanks! P.s Listen To Black Sabbath'
My first thought was
'Good graffiti'
My second thought was
'I already listen to Black Sabbath'

In other news, I was recently in Takaka, a village in the South Island's beautiful Golden Bay area, and I purchased a very adult straw hat with a black sash around it.
It is very comfortable and I would say makes me look slightly debonair, however Sam has started calling me Lector because I remind him of Hannibal Lector, the evil murdering genius from the film Silence Of The Lambs.
He has taken to saying things like:
'You look very Lector-ey this morning,'
He also suggested that when the woman from Sailz café in Lake Hawea brought me overripe banana with my muesli that she best have thought that move over in case I skinned her alive in 30 seconds.


Short URL for this post: http://tmblr.co/Zy4yby